Daily Life Lessons
My kids and I stopped at Kmart the other day to use my IFit Studio rewards points that I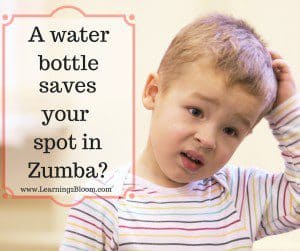 had earned the week before.  We finished shopping and there was one lane open.
I was a little annoyed and there were quite a few people in line.  I noticed that the one employee checking everyone out seemed frustrated and later told me that she was actually the manager, but the cashier didn't show up, so she was the only one available to help all of the customers waiting.
This could have been a very frustrating situation. I couldn't change the situation and so I decided not to let it bother me.
All of the sudden, the woman in front of us put her laundry detergent down and scurried away.  She was holding her spot in line by placing the detergent on the floor.
It reminded me of Zumba.  I'm not sure if they do this in every Zumba class, but it's a funny thing that has been universal in all of the classes I have been to.  If we see a water bottle in the middle of the floor, we just know that it is there to save someones spot.
We respect the water bottle and leave them their personal space to come back to.  It's obvious when someone is new because they stand right next to the water bottle, not realizing this unspoken rule.
I have never seen someone do this outside of Zumba.  I'm not sure if she was intimidated to talk to me? Maybe she's been to too many Zumba classes?  Maybe she's just rude and thinks the world revolves around her?  Or maybe I don't get out enough and this is now a thing?
Without looking at me or saying anything, how did she know that I would realize that is what she was doing? There was no way of her knowing that I might understand the rules of Zumba.
Does she think the detergent holds the same sacred powers as the water bottle? As the line moved up, I have a choice;  Do I wait behind the detergent? Do I step over it? Do I move it out of line and make her go through the line again?  The thought crossed my mind, but I just didn't feel right about it.  I decided to wait.
It was really such a small act, but it made me think of a few things about life in general.  Lessons that I'm trying to teach my kids:
Communication is key. If she would have just asked me to save her spot for a minute, I would have.  Why not just talk to people.  I think you'd be surprised at how nice they (most) will be.
Don't jump to conclusions. We never know what someone's going through, why not be nice to everyone we meet?  Maybe she needed to get home quickly to her family .  Why not allow that?  In the end is it really a big deal anyway? Maybe it was just a cultural difference?  Not sure where they would do this, but maybe?? (see pic below)
Think before reacting. We choose how we react to each situation. Is it worth the fight?  Don't assume the worst. A positive attitude goes a long way and I believe in choosing my battles.  I have decided to intentionally choose happiness daily. This comes from deciding how I'm going to react to each situation that is presented throughout the day.
I ended up laughing about it a little bit with my kids.  She returned, picked up her detergent, and took her place back in line.  A few other people were watching and seemed to think it was funny.  It didn't really hurt anyone to wait the extra 2 minutes it took for her to checkout in front of us.
Although, I could have turned a good day into something much different if I would have made a big deal about it; In the end it was insignificant and I am glad that I chose to react in a positive way and just laugh it off.
This small thing also reminded me that the biggest lessons we can teach our kids are sometimes through the smallest day to day interactions.
If you are interested, please visit my other post on free Zumba classes in Utah.  I would also love to for you to share your stories in the comments below about how you teach your kids through every day moments.