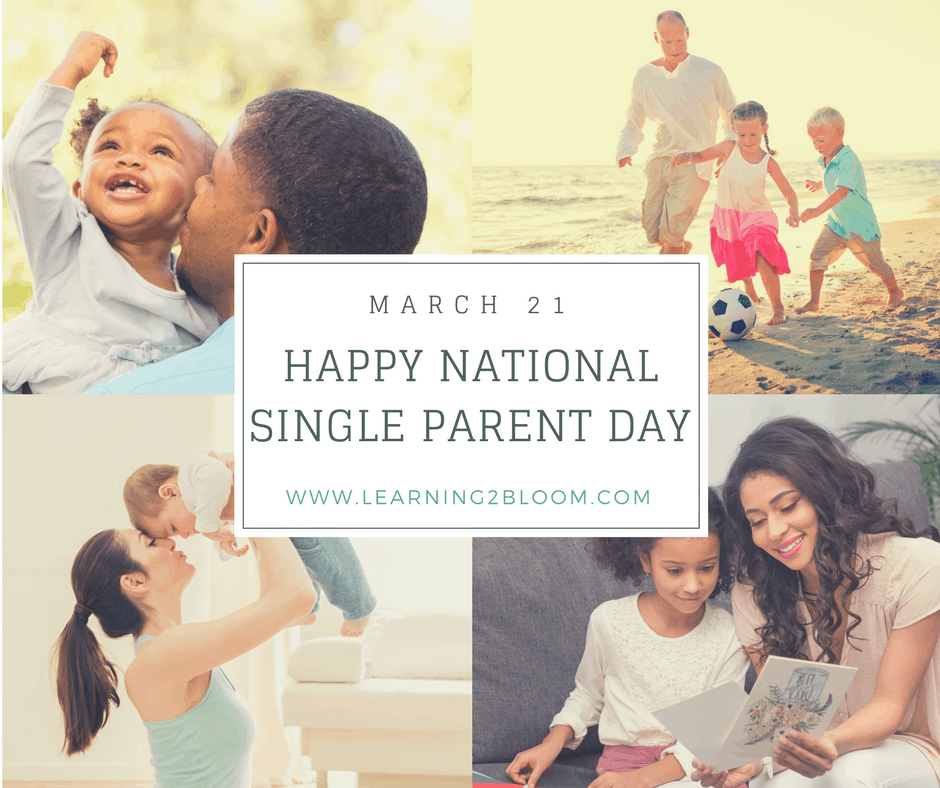 National Single Parent Day – March 21
Did you know there is truly a day reserved to honor single parents? In 1984, Ronald Reagan pronounced March 21st as National Single Parent day (see proclamation below).
It can be difficult to care for a child's needs on your own. It can feel lonely and be emotionally and physically draining. It is also more difficult to date or move on and improve your personal life when most of your time is dedicated to your children.
It can also be a wonderful thing when you have friends and family step in and show support. It's amazing for single parents to know that they are part of a community/family who cares and will be there for them and their children.
Quotes from single moms
Single parent life can look different for every single one of us. Here are a few quotes from some of my single mom friends telling what it's like to be a single parent or sharing advice to other single parents.
"'Learn to be self-sufficient' were words repeated by my mother. I didn't understand how far it would take me in life, but it has proven to be one of the best life strategies, especially being a single mom!" –Betina@ Betinaroberts.com

"It's like having an octopus stuck to your face while you're trying to juggle fire… on a unicycle." –Sadie@ slapdashmom.com

"Single parenting has been freeing, and, tho this is counter-intuitive, given me *more* time to myself. While some days it's extremely busy, I never regret becoming a single parent. I love my life." –Sarah@ Raisingroyalty.ca

"Your life is 100% your responsibility. Make a plan!" –Tamara@ Empowered Single Moms
How to celebrate Single Parent Day
Some ways that you can celebrate Single Parent Day is to honor a single parent in your life. Find a single parent you know and write them a letter or send them a card. You could also offer to help them with their kids for a day.
If you're a single parent yourself, find some time today to do something for yourself. Find a way to add some self-care into your day. Even if you can only find 5-10 minutes, use that time to read a book, meditate or do something small for yourself.
How will you show a single parent that you care?
Are you a single parent? Were you raised by a single parent? Or do you know a single parent? Who can you honor on March 21 for National Single Parent Day?
Proclamation 5166 — National Single Parent Day, 1984

March 21, 1984

By the President of the United States

of America

A Proclamation

Before they are eighteen, about half of our Nation's children will have lived part of their lives with a single parent who strives to fill the role of both mother and father.

Many single parents in America are making valiant efforts on behalf of their children under trying circumstances. Whether it is a deserted spouse forced to work and care for children simultaneously, or a spouse who is not receiving child support that has been awarded by a court, or an unwed mother who has bravely foregone the all-too-available option of abortion, or a widow or widower, single parents deserve our recognition and appreciation for their demonstrated dedication to their young.

At the same time, we should also recognize the vital and ongoing role a large percentage of non-custodial parents play in the nurturing process of their offspring. Their sacrifices, devotion, and concern reflect the bonds of caring for those they have brought into this world.

Single parents can and do provide children with the financial, physical, emotional, and social support they need to take their places as productive and mature citizens. With the active interest and support of friends, relatives, and local communities, they can do even more to raise their children in the best possible environment.

The Congress, by H.J. Res. 200, has designated March 21, 1984, as "National Single Parent Day" and has requested the President to issue a proclamation in observance of that day.

Now, Therefore, I, Ronald Reagan, President of the United States of America, do hereby proclaim March 21, 1984, as National Single Parent Day. I call on the people of the United States to recognize the contributions single parents are making, sometimes under great hardships, to the lives of their children, and I ask that they volunteer their help, privately or through community organizations, to single parents who seek it to meet their aspirations for their children.

In Witness Whereof, I have hereunto set my hand this twenty-first day of March, in the year of our Lord nineteen hundred and eighty-four, and of the Independence of the United States of America the two hundred and eighth.

-Ronald Reagan

[Filed with the Office of the Federal Register, 11:13 a.m., March 22, 1984]