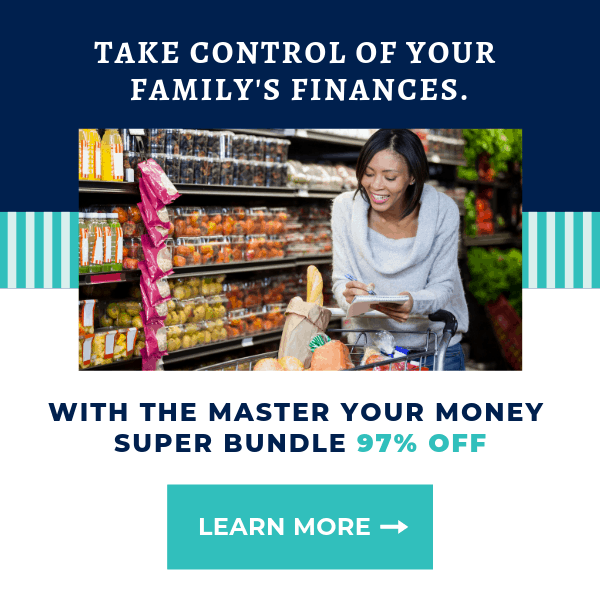 For most of us single parents, one of the top things that causes stress in our lives is the lack of money. Sure, some single moms receive child support, but the majority of us are on our own.
It's stressful enough trying to provide for the physical and emotional needs of a child on your own. Stress associated with money just seems to compound everything.
Money isn't everything, but it sure does make life easier. Money can't buy love, but it can buy time. It can pay for someone to: clean our house, do our laundry, watch our kids, pre-make meals, help with our pets, etc.
It can pay for most things that can save us time so that we can focus on our family. Money can really take a lot of worry off our plate.
Make it a priority to pay off your debt. I hear people talk about living your life to it's fullest and saying things like "you only live once". Many times, they are referring to having more fun and not focusing so much on paying your bills that you miss out.
RELATED: Budgeting Hacks for Single Parents
I believe in a different take on that. I've struggled with money over the years. I am working to improve my financial situation (slowly, but surely). One thing that helped me was to add all of my debt to an app that helps list the exact amounts I'm paying in interest each month.
I was shocked to see at one point that I was paying $400/month in interest! If I could only get rid of that debt, not only will I have the money I'm paying towards each bill, but I'll also pocket the $400/month that I'm paying in interest!
For a single mom struggling to pay necessities, $400/month is a huge amount of money.

Here I was looking for a 3rd part-time job and it hit me that basically I needed the extra job to pay off the interest I owed each month. This was such a discouraging realization.
Of course, I didn't stop looking for another job. Once I really thought about it, I was encouraged that I could realistically pay down my debt faster than I thought. If I can pay down my debt, I'll get rid of the debt PLUS the biggest advantage is that I won't owe that $400/month in interest. Once you get things paid off the savings compound.
I really believe that it all comes down to our Money mindset. If we think we'll never pay off our debt, we never will. It that's a priority to us and we do everything to work towards it, it's more likely to happen.
I can't stress enough to stay out of debt! If you can't afford it, don't buy it. Yes, it may temporarily feel like you're missing out, but imagine what you're missing out on by paying hundreds of dollars in interest each month!
Imagine how much more freedom and time you'll have once you can stop wasting your money on debt and interest payments, and start focusing on living in the now while being realistic about what you can afford and what you can't.
One thing to look into is this FREE Ebook filled with money saving tips. Download it while it's still available. Learn as many money saving ideas that you can and figure out what works best for you.
Share your money saving tips in the comments below. I would love to hear what is working for you!