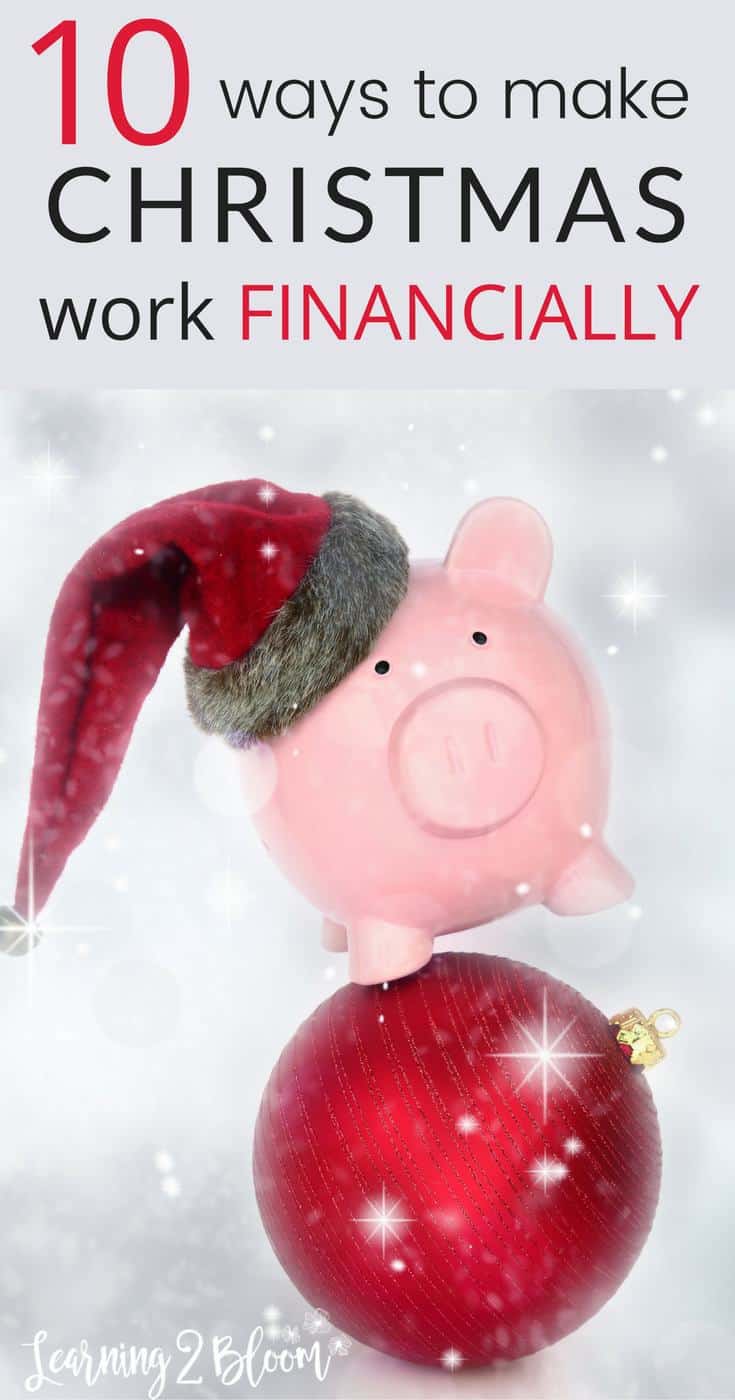 How to make Christmas work financially
It's difficult for two parent families to make it financially. It's even more difficult when you're the only one bringing in any income plus you have to handle every other responsibility in the household. I understand! It can be stressful. It can be overwhelming. It can feel like more than we can handle at times.
Honestly, I don't believe that kids need to get everything they want for Christmas. I think too many of us already feel guilty that our kids don't have the "perfect" family that we want for them. It's easy to try to make up for it through gifts, but that's not what they need.
Whether you're a single parent, or part of a two parent family, I have included some tips for you to get through the holidays this year.
Read more here about how to survive the holidays as a single parent
Many families follow the tradition of each child getting: something they need, something they want, something to wear, something to read is a good idea. I can see how it wouldn't work for everyone though.
Everyone has their own holiday traditions. Each family is so different and so we need to figure out what works best for our own family.
In my family, Christmas is generally the time of year my kids get the basics that they need. They usually don't get much before school starts. Christmas is the time that they get socks, underwear, shoes, boots, coats, etc. So, they do have a lot of presents, but most of their gifts are things that they need, not necessarily a lot of wants.
10 ways to survive Christmas financially
1. Don't compete with others.
Try not to compare your kid's gifts with other families. It's okay if your kids don't have a lot of presents. Things are not the most important part of life. It's okay if someone gets more and it's also okay to be happy for them and still be happy with what you have.
2. Avoid debt.
Those gifts might be fun to open and fun to play with for the first month, but after that many of those things aren't used much. Most importantly, unnecessary debt ends up bringing more stress and frustration in the long run. It's not worth it. If you really need it, look into local holiday assistance in your community.
3. Purchase gifts at a discount.
Check out Amazon's Prime Day in July for some of the best deals of the year!
Shop sales, thrift shops. I love to shop at stores like Kohls where I can combine clearance prices with coupons. You can even look into purchasing through Amazon at greatly reduced prices. Deals on Amazon products is one of my favorites, but you do have to look for deals throughout the year. If you shop online, use Ebates so that you will get back a portion of what you spend.
4. Find side jobs that you can do throughout the year.
Use the money you make working side jobs for Christmas each year. Some you may want to look into are: Secret shopping or testing websites. Your Christmas fund could add up quickly and depending on how much you're able to do, you might have extra for something fun or to help pay a bill.
5. Create new traditions.
Start special holiday traditions that take the focus off money. Keep some of your favorite old traditions, but let kids help come up with new traditions.
6. Get kids used to the fact that Santa doesn't bring too many presents each year.
Teach kids that they don't get big gifts from Santa. If you want them to get big gifts, let them know the bigger gifts are from you and they might understand more why some years might not be as big as others.
7. Make homemade gifts for each other.
Don't focus on the gifts you are getting, focus on others. Not all gifts have to be store bought. You can make gifts for each other. Sometimes homemade gifts mean so much more than something you buy at the store.
8. Collect gift cards throughout the year.
Buy gift cards throughout the year whenever you have a little bit of extra money and save them for Christmas. Sometimes you can even find gift cards at prices lower than what it's worth.
9. Save your change during the entire year.
Every time you get coins as change, put it in a container and don't think about it during the year. It adds up quickly and by Christmas you could easily have a few hundred dollars.
10. Create a gift closet (or drawer or shelf).
Every time you find a really good deal on something your kids would love you buy it and put it away for Christmas. You can also pull things out for Birthday's throughout the year. I love buying things off season and saving them for the next year. For example, after winter (if you pay attention to the sales) you can find gloves, hats, coats, etc for up to 90% off!
How does your family make Christmas work? Please share any ideas you have for others below in the comments.