Our first fairy garden
Have you ever planted a fairy garden? We just planted our first fairy garden.  It was so cute and fun to make. My kids had a good time putting this together. It's so magical and fun. It's finally warm weather and we're excited to see how it will grow.
I hope you enjoy creating your first fairy garden just as much as we did. You'll love looking at it each morning as you leave for work and each afternoon as you return.  It's so fun to have something cute out in the yard or even on a balcony whether you have much of a yard or not.
Supplies:
Large pot- can be any size depending on the amount and size of miniature fairy accessories you want to use
Pot saucer or drip tray underneath pot (if needed)
Potting soil
Small plants, succulents, or herbs
Gardening gloves
Small gardening shovel
Fairy houses, fairies, small pebbles or other accessories
Planting your garden
Fill your pot with soil- if it's a very large pot, you can put the plastic containers the plants come in at the bottom of the pot to take up space and also help so that it's not so heavy.
Plan where you will place your plants with the tallest in the back, leaving a space for the fairy house (or the largest of your accessories).
Dig your holes and plant your herbs/plants. Leave some space around each plant so that there is room for it to grow.
Place the fairy house in your fairy garden and the fairies, animals and other items around the plants wherever there is room.
Water your fairy garden and then water 1-2 times per day (depending on the plants you use).
Where to buy fairy garden accessories
Here is a picture of our fairy garden.  You can get the accessories at many gardening stores or even from Amazon, which is my favorite place to shop.  We also found fairies and fairy houses for much better prices at Gordmans, but I would warn you to go early, as their selection goes fast.
The cost of the fairy accessories can really add up, but the nice thing is that you can reuse them each year.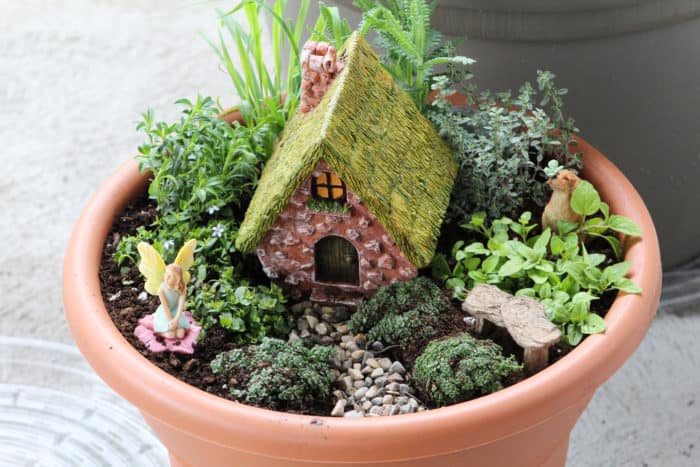 Fairy Garden Forest
We haven't been here yet, but if you had fun planting your fairy garden, you may be interested in visiting the Fairy Garden forest in Kamas.  It's supposed to be a short hike to an area where visitors add their own fairy decorations.
It looks like a simple trail to the area and it looks like it will be fun to make your own decorations to take and leave behind for others to see.  Creating the decorations will be a fun summer activity in itself.
Woodland Fairy Display
Another fun activity is the Woodland Fairy Display in Gardner Village in Utah.  Gardner Village is a cute village made up of shops and restaurants.  The fairies are a fun display they set up in April and May.  Kids love to find each tiny house and fairy scene.
Have you made your own fairy garden?
Have you been to the Fairy Garden Forest? Have you every planted your own fairy garden? Do you have any tips? Ideas? Suggestions?  If so, please share in the comments below.