Celebrating 100 years of life
Today we are celebrating 100 years of life.  My Grandma's 100th Birthday was on May 13! We had a big party for her in the Assisted Living Center where she lives.
Luckily, we have a lot of creative people in our family and it was so nice! My mom, along with her siblings and their spouses planned the event. I know my mom has been very stressed trying to finish everything, but it turned out great!
Invitations & Decorations
My cousin's wife, Brooke, made some gorgeous invitations, that fit my Grandma's style perfectly.  She also used some decorations that she had from a recent wedding for the tables.  They really made the room look great!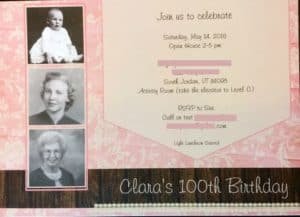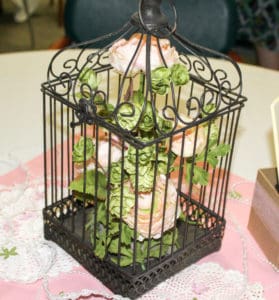 Cake
My other cousin's wife, Valerie, made the cake by hand.  She did an amazing job!  The cake, flowers and silhouettes were all handmade.  The cake included 4 layers, which represent 4 generations: wife, mom, grandmother, great-grandmother.
It even tasted as good as it looks! If you're interested and in the Utah county area, check out her page: Baking Memories!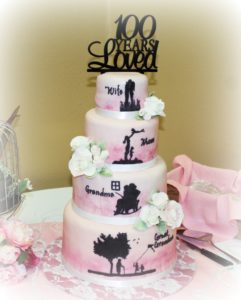 Memory Book & Video
My cousin, Kaylee, put together a memory book, which I can't wait to see. My cousin Rachel, created a video on YouTube celebrating her life. It was fun to watch during the party. It seems like everyone had such a great time.  Even the kids kept pretty busy during the whole thing.
Other Momentos for Centennials
My Grandma also received a lot of great cards, flowers and small gifts.  One thing that I found that is really cute for Centenarians, was this Pages of Time booklet. It was fun to see how different everything was back in 1916.  I also requested a Greeting from the President, but I didn't find out about it until recently and so I will have to give it to her later.
My Grandma is so proud to be featured in the Deseret News Centenarians article and proudly showed us her name in the article when it came out.  She said, "I've been waiting 100 years for this.  It wasn't hard making it to 100; it just happened."
I can only hope to live such a full and happy life as her.  Happy Birthday Grandma!