Will I ever sleep again?  
I've asked myself that question too many times to count.  With kid's comes many sleepless nights.  I'm sure you've have had many of those over the years!  When they're younger they cry or they need things… constantly…. or maybe they want to play at 2 AM.
 You daydream about the night that you will get more sleep only to find the sleepless nights that come along with worrying about your child as they get older.  
As they seek independence, you start letting go so that they can grow, but along with that comes sleepless nights full of worry.  I'm sure someday you will get a good nights sleep again, but unfortunately, it may not be tonight.
The golden hour for moms
For now, treasure that short period of time between their bedtime and yours.  As a single parent, this may even be the only alone time you have during the day.  You need this time to stay sane and so bedtime is a big deal.  
Growing up, my kids knew that after about 9:00, I was much more strict! They knew not to wake me up. I expected them to respect me as I sleep and also to respect each others sleep time.
Of course, that didn't always happen, but I always tried.
Boundaries
Weekends may be the only time you can sleep in. Try teaching them from a young age to get their own cereal and turn on cartoons in the morning if you're not awake.  They will learn that as soon as you get up you will help them with whatever they need, make them breakfast, etc.  
Don't get me wrong, I'm not giving you an excuse to sleep in all day, but it's amazing when you can finally wake up at 8 or 9:00 (without your alarm) once or twice a week. Of course, it should also be known that if they're sick or there's an emergency, the rules change to fit the situation.  
I'm not an expert and I know that some kids (like mine) are very difficult to get to sleep.  I also know that bedtime challenges are different at various stages of parenting, but even my kids finally learned how important sleep is to all of us.
Most parents understand
I know this post might make it seem like I'm simplifying things, but believe me. I understand.  I have been there.  When they were younger (or maybe older…) there have been several nights that I:
shut all the doors to let them cry it out.
shut the doors so I can cry it out.
wondered if I would ever sleep again.
wondered if they would ever sleep during normal bedtime hours.
had nights where all I wanted to do was jump in my car and drive to get away from it all.
would give anything 

for another person to be here and take over bedtime (even if it's only for 10 minutes so I can breathe before getting back to them).
Reality check
My REALITY is that I have been here pretty much every night with these kids ALONE for over 10 years. You're reality may be similar. You may be exhausted and trying to figure things out, and will probably try any little thing that will give you even 5 more minutes of sleep.
The closer to 8 hours of sleep that I get, the happier I am.  When I'm happy, I end up spending much more quality time with my kids. Plus, when kids get the sleep they need, they're happier. If you're anything like me, it's a win-win for the whole family!
As much as this post is about getting the sleep we need, I do want to stress that it is a given that you love spending time with your children.  The thing is, that as a single parent, we cannot function (especially while doing the jobs of 2 parents while working, going to school and/or everything else in your life) without a decent amount of sleep.  
Be present as a parent
Do what you can to be as present as possible when you're with your kids; which requires sleep.  It's important to stress independence and boundaries, and set clear expectations about bedtime rules, etc. I also think that we need to remember not to use this as an excuse to be lazy and ignore our kids so that we don't have to do our job and parent them.
General rules for better sleep
I'm not perfect, but these are some general rules that have helped and I have tried to stick to over the years and I hope you too:
Stick to a routine- consistent bedtime and wake up time.

Let bedtime expectations/rules be known (daily schedule posted).

Turn off electronics an hour before bed.  (turn off wi-fi, if needed)

Make sure kids get drinks, go to the bathroom, anything they need before bed.

Teach kids to self-soothe (starting when they're younger).

Keep the house cool at night.

Make sure everyone has a comfortable mattress like this one.

Essential Oils: I love to diffuse Lavender, Serenity or other oils while we sleep. Or s

pray on topical Magnesium

 each night

Meditation CDs

Turn on a fan or other white noise
One of my favorite secret weapons
There are several CD's out there, but I have had so many people ask me lately which we have used and so I wanted to share them here.  We have loved using Lori Lite's Indigo Dreams.  We started using them first with my older daughter, over 10 years ago and then with her sister.  
We have the CD's I've listed below, but there are actually a few more out that we haven't tried.  Listening to these is basically like listening to a bedtime story with soft relaxing music afterwards. (We have now actually downloaded them on ITunes so that we can easily listen to them from our devices.)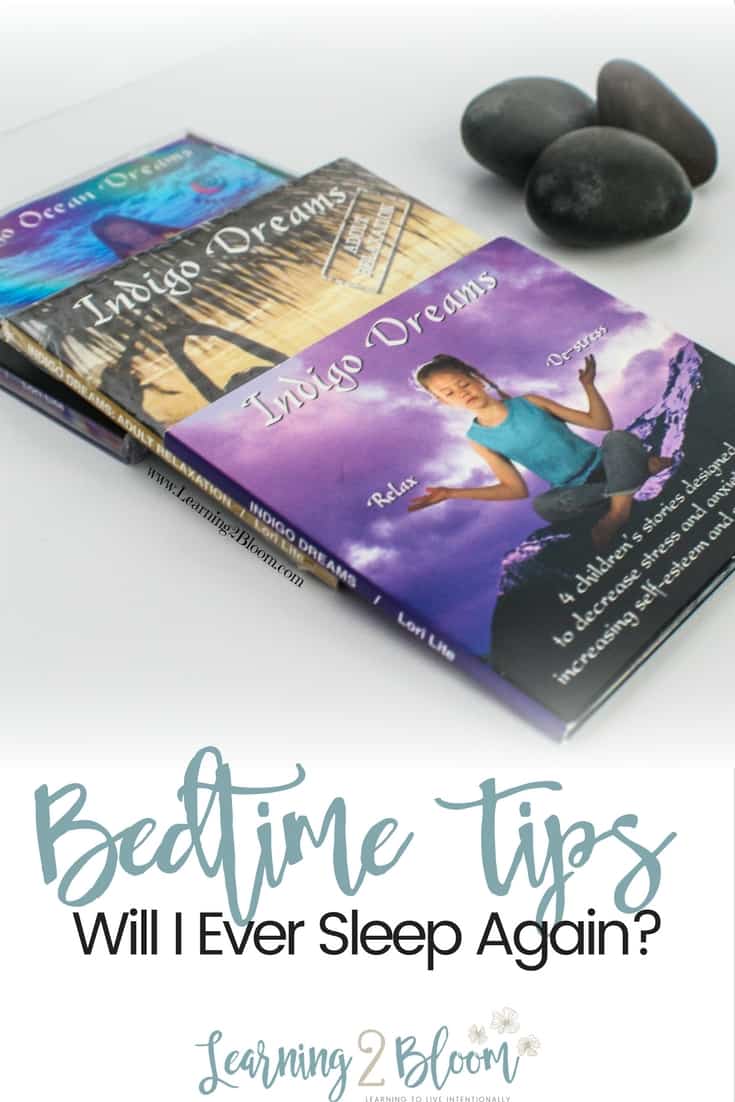 When my kids were younger, I would tell them I would stay in their room for one story and then I needed to go to my own bed, but half the time, I would fall asleep even before the first story was over. I can't help but relax listening to these!
Relaxation and Stress Management Bedtime Stories for Children, Improve Sleep, Manage Stress and Anxiety
4 Children's Stories Designed to Decrease Stress, Anger and Anxiety while Increasing Self-Esteem and Self-Awareness
Guided Relaxation Techniques Designed to Decrease Stress, Anger and Anxiety while Increasing Self-esteem and Self-awareness (not pictured)
Adult Relaxation-Guided Meditation/Relaxation Techniques decrease anxiety, stress, anger
If you try these out, I hope they help you just as much as they've helped my family.  Have you tried these or other techniques to help your children sleep?  What other bedtime routines or ideas work for you?  
Comment below and let me know 🙂