Linenspa mattress review
Are you looking for a new mattress?  After all you do for everyone else day after day, you deserve a nice mattress and a good nights rest. After all, good sleep is essential for you to perform your best every day.
Time to replace the mattress
My old mattress was nice, but I've had it for over 12 years! I know, I'm a little embarrassed, but I'm sure I'm not the only one that has kept their mattress that long! Plus, after going through a few babies, it admittedly has some stains on it. I was SO ready to be done with my old mattress.
When Linenspa sent me their 10″ Gel Memory  Foam Mattress to try, I was so excited to check it out. Although, I do have to be honest, I have never tried a memory foam mattress and I was skeptical that it would really be as comfortable as my old mattress.
You work so hard every day
I  know how hard moms work every day. I also know how important your sleep is. You need a comfortable place to rest after a full day of taking care of others in order to get through the day. I can't promise your kids will let you sleep, but I can help you find a great place to catch a couple Z's whenever you get the chance.
Shipping a mattress
My Linenspa mattress was shipped quickly. It was nice not to worry about how to get the mattress to my house. I also didn't have to worry about any expensive delivery fees.
Mattress Delivery
I've never ordered a mattress online and it surprised me that it's so common and SO easy! When I saw the box on my porch, I was shocked that a mattress could fit in such a small box!
When I thought of a bed in a box,  I thought this mattress would be really light, flimsy, and easy to move around. The shipping box shows that it is 64 pounds. It's not light at all, but I was able to drag it up the stairs alone (which was the most difficult part of the whole set-up). I also would have easily been able to set it up alone, but was glad to have the help of my kids since I was taking pictures.
Bed Foundation
This mattress should be placed on a solid foundation such as a box spring or bed base. I placed my mattress on my old box spring, which is still in good condition.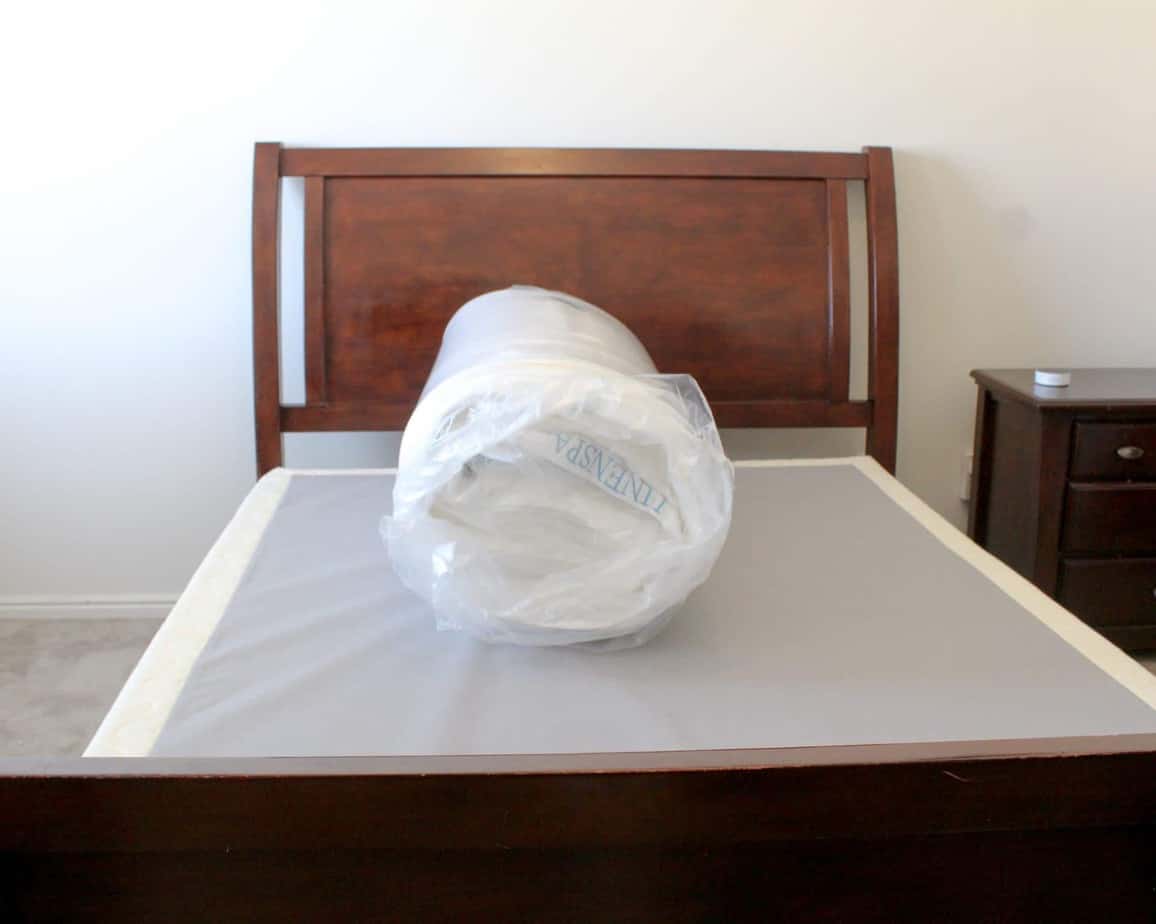 Unpacking the mattress
Unpacking was a breeze! I cut open the box before dragging it upstairs to my room. After that, all you need to do is cut open the plastic packaging. It's folded in half and so you unfold it and pull it out onto your bed. Simple!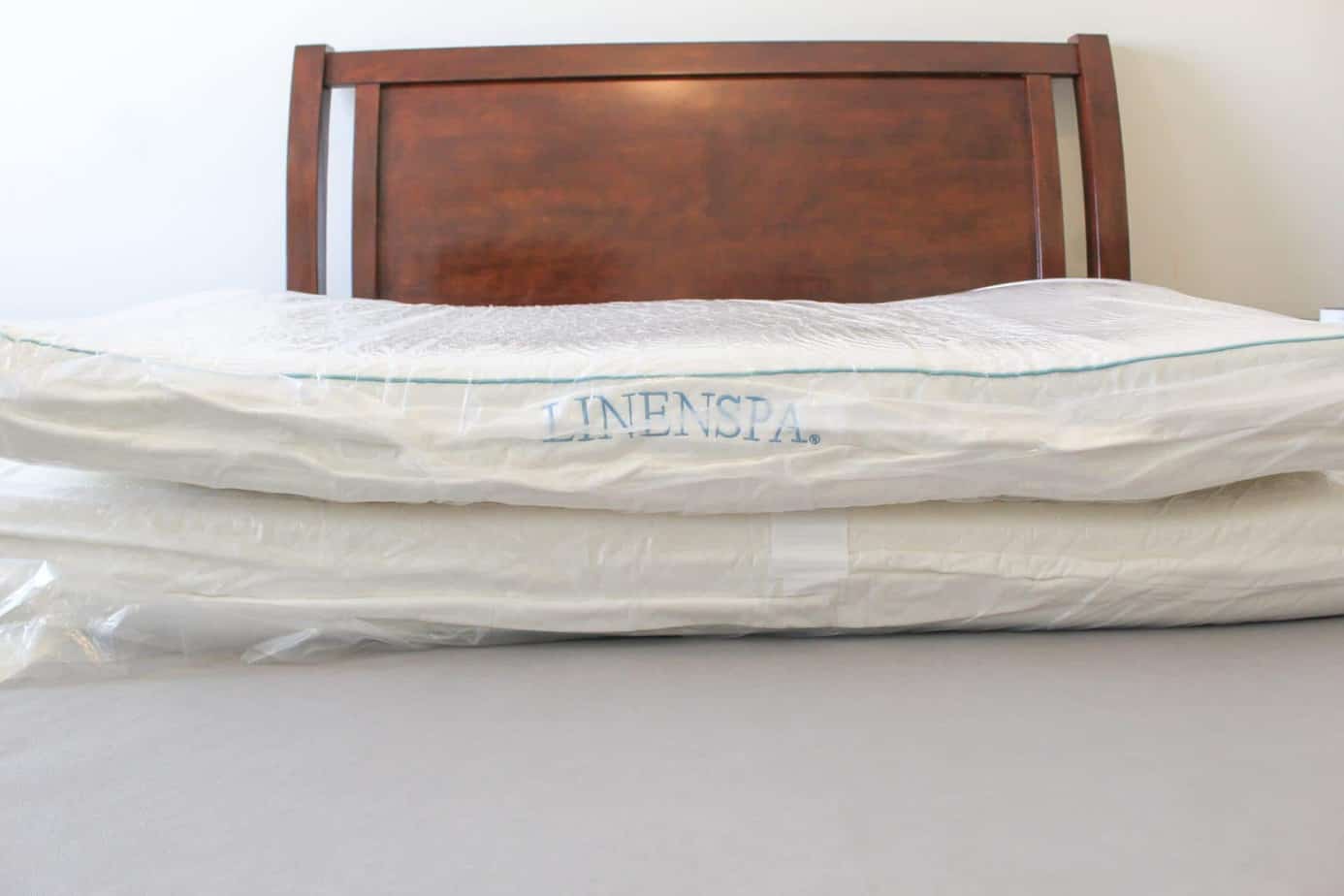 First impressions
The first thing I noticed was how soft the cover is. I loved this and it's too bad I'll end up covering it with sheets.
I also noticed the smell. I am extremely sensitive to smell and sometimes chemical smells even give me a headache.  This mattress did have a slight odor to it, but it didn't bother me. It also wasn't noticeable after airing it out after 2 days (as recommended).
Measurements
When I first opened the plastic around the mattress it quickly filled with air. It ended up measuring 8″ in the middle of the mattress and closer to 7″ at the corners. After I let it sit for about 2 hours it ended up being the 10″ it is supposed to be in the middle, but the corners were still about 8″.
I noticed that the mattress cover was pulled pretty tight around the corners and I think that's why it wasn't able to expand fully. I pulled the cover out and let it sit again. It ended up being the promised 10″ around the entire mattress.  It was also slightly longer than my old queen mattress and fit my box spring perfectly.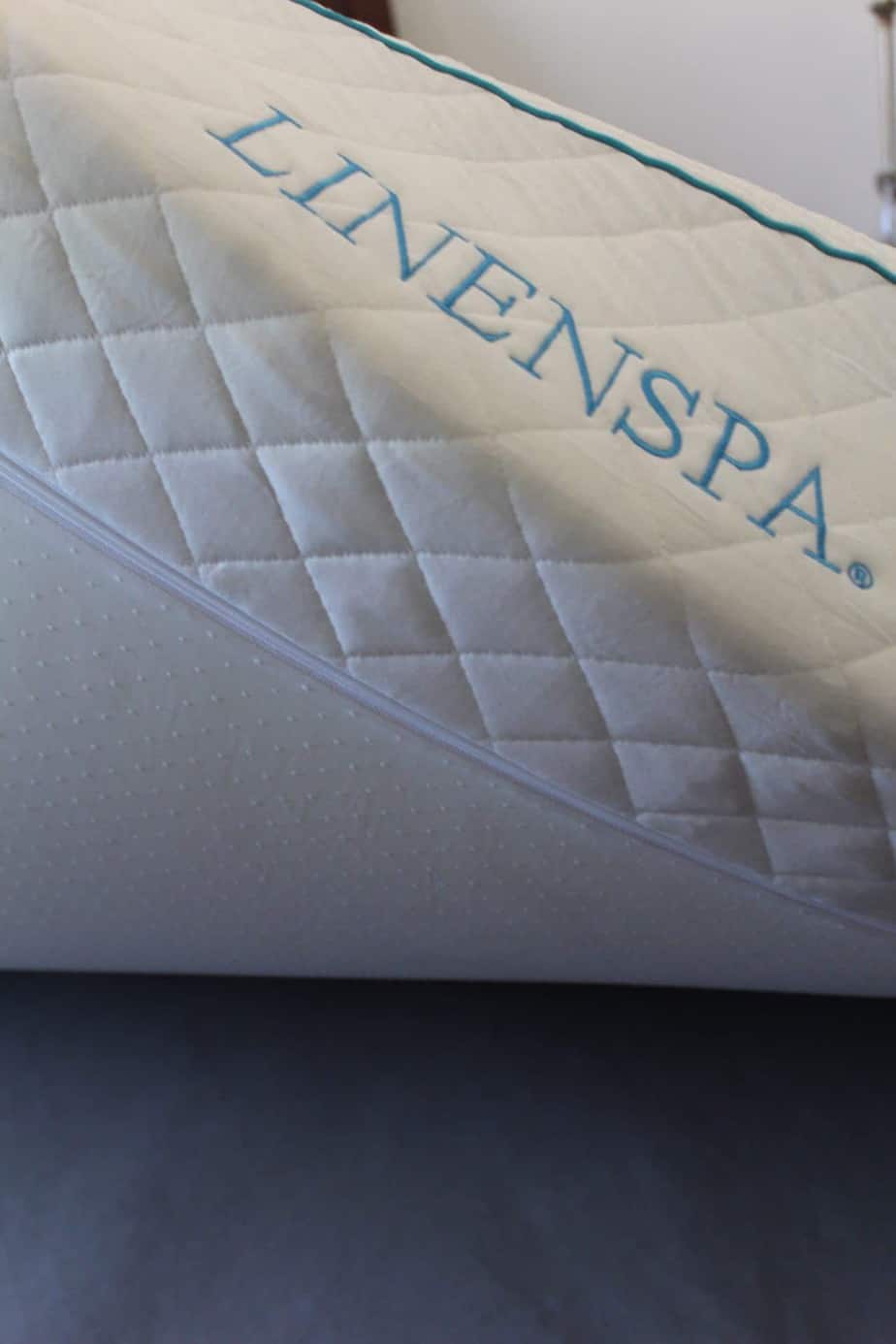 No-slip bottom
The bottom of the mattress (the mattress cover actually) has small dots made of a no-slip type of material. This was a nice addition that keeps the mattress in place.
Support
Sleeping on the Linenspa 10″ Queen mattress  was a dream!  This specific mattress has a medium-firm feel. Of course, "feel" is subjective, but in my opinion it was true to their statement.
I was surprised at how firm a memory foam mattress can be. It was firm, but definitely had some "hug" to it. I keep forgetting I'm not on my old bed and try to sort of bounce off my bed like I did my old mattress. It doesn't work so well, but the only problem with that really is that your kids won't have fun jumping on this bed.
Everybody's different when it comes to mattresses. Some prefer a firm mattress, other's prefer a very soft mattress. Whatever your preference, Linenspa really does create a mattress for every body.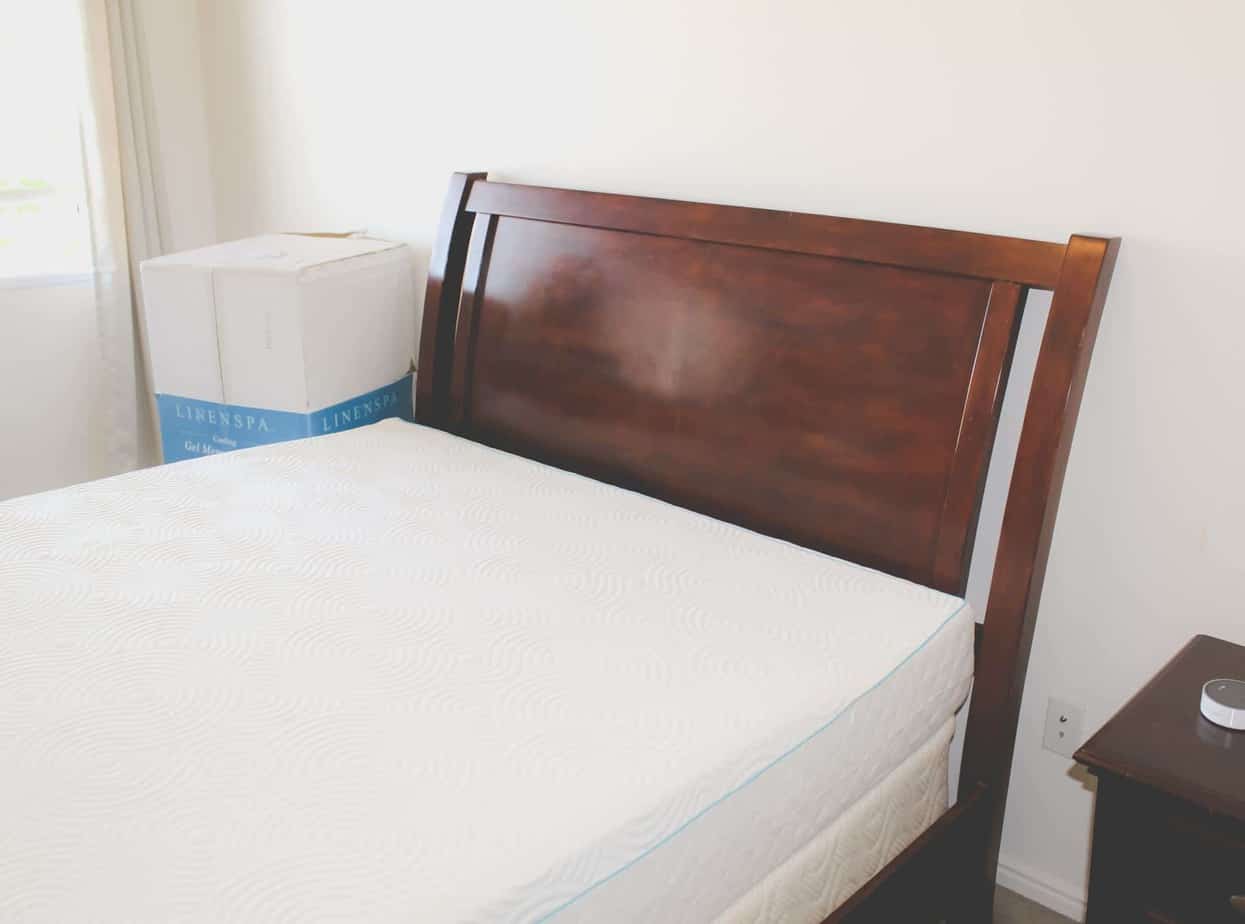 Comfort
The first night, I honestly wasn't sure if I liked it, but the next night was much better. It did take a few days to get used to the feel of my new mattress, but now I've had it for over a month and I love it. I've been able to get a good nights sleep and wake up refreshed every morning.
I have also noticed that I don't move around as much while I'm sleeping because I'm much more comfortable. Anything that helps me get closer to my goal of 8 hours sleep is awesome in my book!
Removable cover
The cover is made of Bamboo. It is removable and washable in low/cold settings, which is a plus just in case of any stains.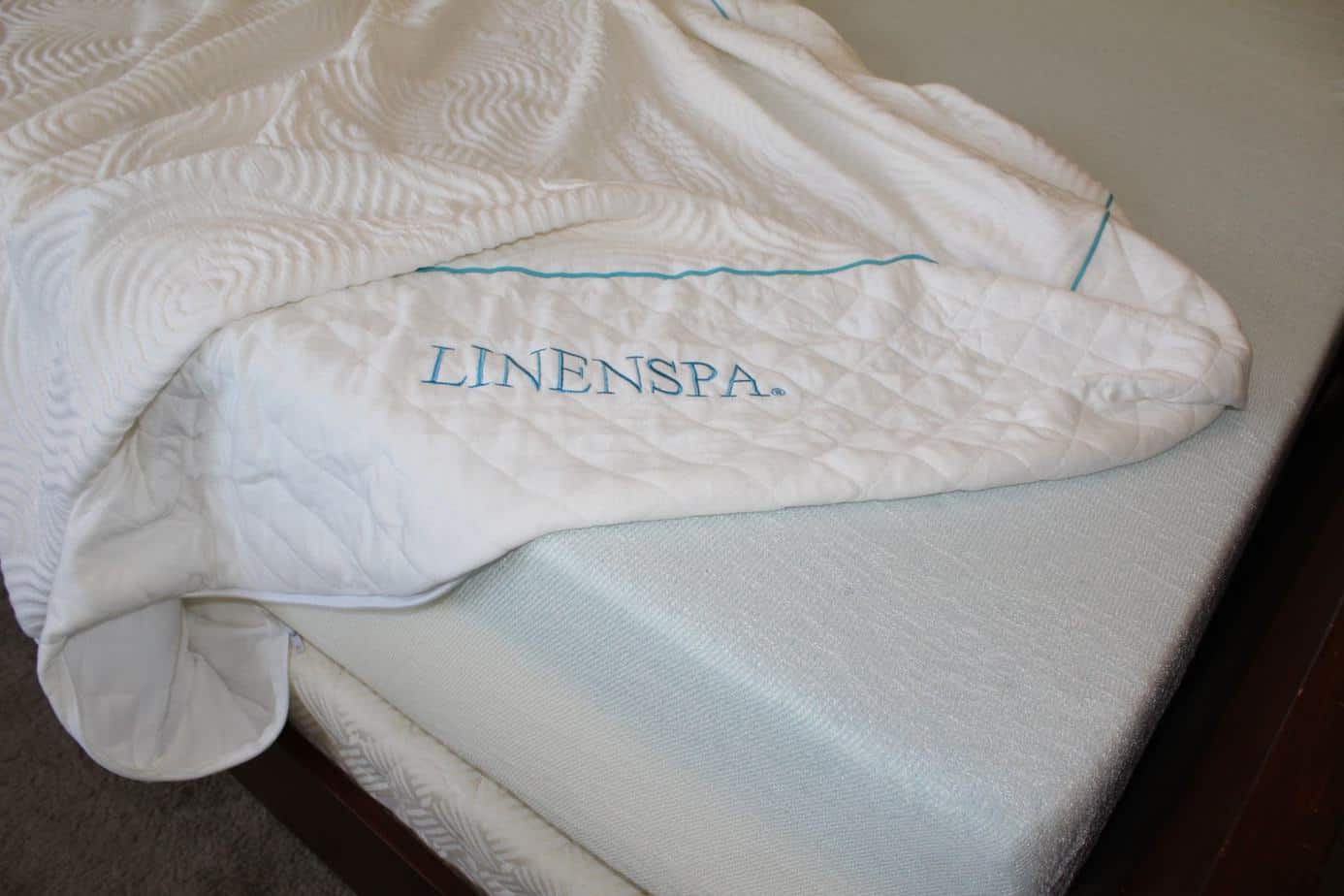 3.5″ gel infused memory foam top layer
With the bamboo cover removed you can see the 3.5″ gel infused memory foam top layer. This layer is supposed to help you stay cool while you sleep. I did feel cooler when I first laid on the mattress.  Throughout the night though, I honestly didn't notice whether I was cooler or not.
Options
This mattress was an incredible deal on Amazon. They also offer kids 8″, 6″, and 5″ versions.  This product provides such a great value at an inexpensive price.
Warranty
The Linenspa 10″ Queen mattress comes with a 25 year warranty that protects against manufacturer defect. You don't see 25-year warranties often, so this was a very welcome bonus.
Cost
Fortunately, this mattress is very affordable and a great mattress for the value. I'm planning on keeping it around for quite awhile, but I love it that if I decide to, I can actually afford to replace it every 10 years (as most professionals recommend).


Where can you get your mattress?
Buy the Linenspa 10″ Gel Memory Foam Mattress here and let me know what you think. Purchases are easy through Amazon. If you have shopped on Amazon before, you know their prices are subject to change at any time.
*The trick to purchasing through Amazon is adding the item to your cart now. That way if you end up waiting a day or two, you will be notified by Amazon when the price changes. Do this with anything you're interested in. It makes it so easy and that way you don't have to search everywhere for the exact product again.
I can't wait for you to get the good nights sleep that you deserve!
Have you tried a memory foam mattress?