Summer child care for working parents
What should I do with my kids all summer?  Sounds like a simple question, but not always such a simple answer.   Many of us rely on school as our primary child care option during the school year. For parents who work full-time, summer vacation isn't much of a vacation.  In fact, it can feel impossible to figure out. Consider yourself very lucky if childcare hasn't been a major stress in your life.  It can be very stressful, time consuming and expensive to figure out child care. Too many single, working parents, just don't have the support they need.
Younger Children
I know there are so many different situations that parents need to figure out. Most parents of young children who aren't yet in school are usually able to continue the same child care that you were previously using.
Older Children
With kids that are a little older, some parents have to decide whether to leave them home alone (or with siblings), or where to go for child care.  Most states don't give a specific age that children can be home alone.  Latchkeykids.com lists  some general guidelines you can use if you are trying to figure that out for your family.  If you're in Utah, you may want to check out DCFS (Division of Child and Family Services) .  Although, I find this site (and the laws) to be very vague on this topic. If you do leave your older children (or teens) home alone, safety should be your first priority.
Teens
Most teens can stay home alone, but do you really WANT them to be home alone all day, every day?  It seems that the same people who say it's so easy for parents of teens because they don't need to worry about their older kids anymore, are the same people who are complaining about teenagers walking around the neighborhood or hanging out at the park unsupervised.
Yes, it may be cheaper, depending on camps, etc that your child is enrolled in.  It may or may not be easier (depending on the kid).  Some can handle it, but some may do better if they have a job or somewhere to volunteer to keep them busy. Teens are great and can be so much fun, but when they do have issues, most problems at this stage are much bigger than the problems of a younger child.  I don't think this stage is easier at all, just different.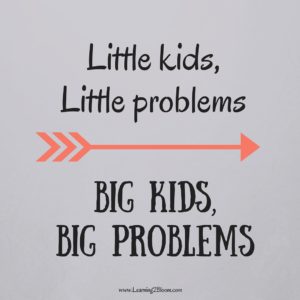 Day Camps
Day camps are one option to look into for the summer. They can be more or less expensive than day care depending on the area and what you qualify for.  The Summer Activity Guide is a fabulous resource from Caring About Childcare to find various summer camps. Although, you will still probably need to do a lot of calling around to find the right fit for your family.
If you are proactive, resourceful, and creative, finding child care won't feel quite as impossible.  It is usually best if you start looking as early as possible for options because many programs fill up quickly.  You should also try to be flexible and think out of the box for solutions that meet your family's needs. Here are some ideas below that will hopefully give you some ideas for your children:
Look for sliding scale based fees or reduced fees for low-income families if you qualify.
If available, look into your employers flexible spending accounts for child care.  check into the possibility of paying for the summer camp or daycare with these funds.
If you do qualify for low-income assistance,  research child care help in your state.
Check into local day cares. Sometimes home providers might be more willing to watch kids just for the summer.
Look for other summer programs such as the Boys & Girls Club.  One program near me (Midvale) offers all day care for only $20/summer (including meals).
Schedule vacations during the summer (hopefully your program won't charge for time off).
Trade child care with other parents who work opposite schedules.
Talk to your employer about temporarily adjusting your work schedule.
Look into your local YMCA.
Find recreation centers with summer programs.
Set up volunteer opportunities for teens where they will be helping and still supervised.
Find summer camps that work with your schedule or enroll them in a camp with a friend's kids and carpool.
Hire a teacher with summers off to watch your kids or get together with a friend and hire the teacher to watch both of your kids.  Some desperately need a break, but others really need the money and look for summer jobs each year.
Find a mom who is home during the day and wants to make some extra money.  Or possibly two moms who would be willing to switch days watching your child.
Hire a teenager who is out of school for the summer.
Hire a nanny (if you can afford it).  Or share a nanny with a friend.
Even if relatives, friends, etc. can't commit to watching your kids all day, find out if they would be willing to drive your kids to camp.
If your schedule permits, start a neighborhood summer camp co-op where you take turns watching the kids with other parents.  For example, if 2-3 of you take the kids 1-2 days each, you will each end up with 3-4 days without kids.  This might work depending on how many total kids there are. You would probably need a few older kids/teens in the mix to help out with the younger ones.  (Maybe the parents can pool some of their funds so that older children or teens end up getting a small paycheck for their time.)
Every situation is so different, but hopefully this will help you with some ideas. Where will your kids be this summer?  If you have any other ideas I can add to my list, please share in the comments below.