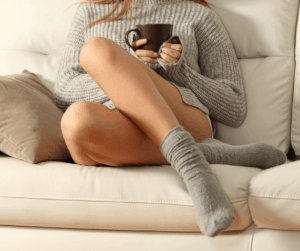 Self-care for single moms
What makes you so different from that successful, put together mom who seems to have it all? The mom who actually gets their kids to school on time with their backpack, shoes, AND homework. The mom who always knows where her keys are. 
Of course, no one is perfect and we never know what is really going on behind the scenes, but not all moms are living permanently in survival mode. One of the main differences of someone stuck in survival mode and someone who is able to eventually pull themselves out is the skill of self-care.
If you feel like you're drowning and completely frazzled, you most likely need some self-care. I'm not talking about bubble baths and candles. I'm talking about REAL self-care.
What is self-care?
Before kids, I thought that self-care meant massages, pedicures and getting my hair done. Once I was a single mom, this type of thinking led me to believe that self-care wasn't for me. I couldn't afford these things regularly and definitely didn't have the time. 
Ultimately, I was in survival mode barely keeping my head above water. How could I even think of participating in indulgent practices when I needed to focus on keeping food on the table for my kids?
Self-care is what you do to create the life of your dreams. It's doing the little things to make sure you are still filling up your cup so you can continue to give and serve all those around you.
Self-care is a life skill
Self-care is one of the most important life skills that everyone should learn (and one that I wish that I learned earlier). It is dedication to ourselves and our family. Self-care is discipline, self-reliance, commitment and organization.
It isn't only pampering and self-indulgence. Self-care means so much more. Self-care consists of the things we do to keep ourselves from ending up stressed and completely exhausted. 
Self-care consists of the little things that keep us going and keep us sane for our family. It's not only caring for our physical needs, but also your emotional, spiritual, financial, professional, intellectual and social health as well.
Why is self care so difficult for single moms?
When it comes to their kids, moms are completely selfless, always putting their kids needs before their own. They give and give until they're completely exhausted. Mothers are not meant to do everything alone, but trying to be everything to everyone is killing us. 
Many single moms lack family willing to help. They lack partnerships that allow adequate time to decompress from being a mom. Self-care is best done with support. 
If you don't already have a support system setup, I would suggest that as one of the first things you work on. Start moving out of your comfort zone. Ask for help and take it when offered. Find time to connect with old friends or make new friends. 
The importance of self-care
If you don't take care of you, who will? It really is up to us. Know your worth and do something about it. When you find time for these things, your will be overall less stressed and able to manage the overwhelming mom moments much better. 
There are so many benefits of self-care. Being committed to regular self-care will allow you to:
Be strong and not let yourself get run down.

Eat right and stay healthy

Get enough sleep so that you can function.

Do things you love so you feel energized.

Slow down and staying grounded.

Say no when you just can't handle anything more in your life. It's okay to say no!

Relax and work on reducing daily stress.

Finish that thing on your to-do-list that's hanging over us, so it won't burden you anymore.

Take care of your health issues.

Pay attention to your needs. Rest when you need to, but also don't self-sabotage.
Self-care facts
Self care is not always the most comfortable thing you can do. It's not always the thing that you want to do in the moment, but it usually is something that you can do that will bring you closer to your goals. It's something that you do daily to give your kids the mom they deserve. 
It's so basic, we tend to think we don't need it explained to us- unfortunately, most of us do!  We don't always realize that taking care of our basic needs can be the best self-care out there. 
Eating healthy foods is self care. Sleeping is self care. Drinking water is self-care. So many of us struggle to do enough of each of these things. The simple things in life are all forms of self-care: showering, taking your meds and vitamins, having alone time at the end of a work day, folding that laundry pile that's been driving you crazy, reading a book, blog or even Netflix on a lunch break, taking some time to yourself once kids go to bed, finding a few minutes of quiet in the middle of the day, canceling obligations when you've over-committed… all self-care! 
How to figure out what you really NEED?
To figure out what you really need in life, think about what brings you joy. I don't mean what things. I mean- what in your life would truly make you feel better daily? Think small here. What are some small things that would make a big difference for you? For example:
Walking into a clean kitchen daily

Knowing exactly where you can find your keys each morning

Going to bed knowing that your kids clothes are laid out and they'll be able to get dressed on their own in the morning

Having dinner prepared when you get home from work

Sleeping in on a Saturday morning while your kids get their own breakfast
First, focus on the outcomes that you are craving in your life and then think of small changes you can make in your life to make these things happen. These things might now seem like self-care as your doing them, but most of them do lead to simplifying your life. 
If you want to walk into a clean kitchen daily, change your habits (and your family's habits) so that you always clean up in the kitchen before walking out. 

If you often lose your keys, designate a spot that you will put your keys each day so that you always know where they are. 

If you're always stressed about preparing dinner after work each day, prepare meals monthly or weekly that you can pop into the oven once you get home. 

If you're craving one day each week to sleep in (depending on the ages of your kids) teach them to get their own cereal and turn on cartoons. 
Simple life changes that improve your life are forms of self-care. You could even consider stopping to solve your daily problems a form of self-care.
How to make it happen- What does real self-care look like?
Self care should be ongoing. Find small gaps of time in each day where you can fit in small things that will make a big difference. One way to do this is to keep a running list of things that need to get done. 
Maybe you can make an important phone call during your lunch break or as soon as your child goes down for a nap. Or keep a book in the car to read each time your sitting in the parking lot waiting for older kids to get out of sports.
If you're truly having difficulty finding time for self-care, it's okay to multi-task. For example: Listen to your favorite podcast or audio book while at work or folding laundry. Or put on a face mask while cleaning the house. But always be mindful of needing some down time where you allow yourself to rest and do nothing.
Get out of the victim mindset and focus on what you need to do to improve your life and get out of the stereotypes that might be surrounding you. How can you meet your own needs and create a life where you can be truly self-sufficient?
Stay organized
If you find time to organize your life, it will be much easier to fit tasks into the small gaps in your day. When you're not organized, you're more likely to run into problems that will make it difficult to practice self-care.
If you have a lot to organize, choose organizing to be your first self-care task you decide to tackle. Break it down into small steps so that it's not overwhelming. Maybe the first week, you can organize the shoes in your closet and then organize your sock drawer the second week. 
Setup a self care routine. Put it in writing and figure out what you need to do daily, weekly and monthly to create a better life for yourself. Re-evaluate every 30 days to decide what can be changed to be more productive.
Don't use self-care as an excuse to sabotage your goals
Be careful about self-care rituals that might actually sabotage your progress. For example, you might like to relax with a glass of wine, which isn't necessarily a negative thing. Although, it could be a problem if you're using alcohol to avoid problems in your life. 
This can also happen when people decide that they "deserve" their favorite treat, but their main goal is to lose weight. It's fine to indulge occasionally, but if you make it a habit, it takes you from your goals and doesn't help anything. 
Set guidelines for yourself. Such as allowing yourself one cheat meal each week so that you don't feel deprived, but you still aren't self-sabotaging.
 

How do you know if you are getting enough self-care in your life?

When you're getting enough self-care in your life you'll see things shifting. You will feel rested, happy, and joyful when you stop to evaluate the level of peace you feel in life. When you are truly happy and content with your life, you'll know that you're getting enough self-care in.

Discipline yourself in order to stay motivated and keep up with self-care. Self-care is something that we do regularly in order to create a habit. 
What are your best self-care tips?
Good luck in your ongoing self-care journey. I would love it if you would share your best self-care tips in the comments below.
Download your free printable self-care checklists: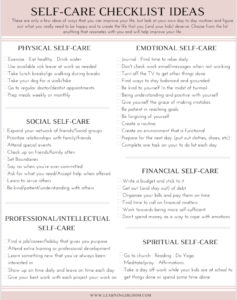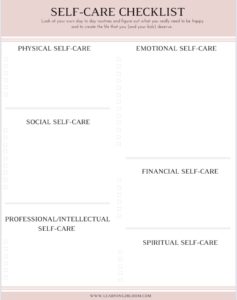 Self-care Checklist ideas and blank worksheet: Fill in with your own physical, emotional, social, financial, professional and spiritual goals.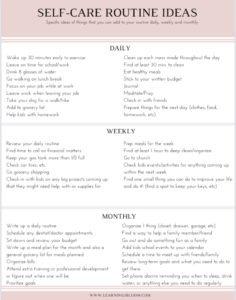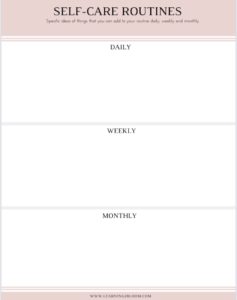 Setup a Self-care Routine ideas and blank worksheet: Daily, weekly and monthly goals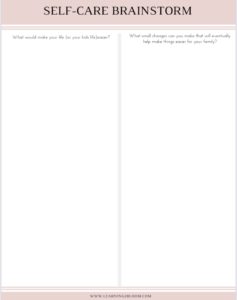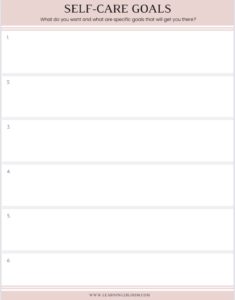 Self-care Brainstorm: Brainstorm what would make your life (and your kids) easier and small changes you can make in your life daily, weekly and monthly to take action and make things easier.
Self-care Goals: Use this form to write down your goals. Write in detail small things that you will do to make changes and when/how often you will do these things.