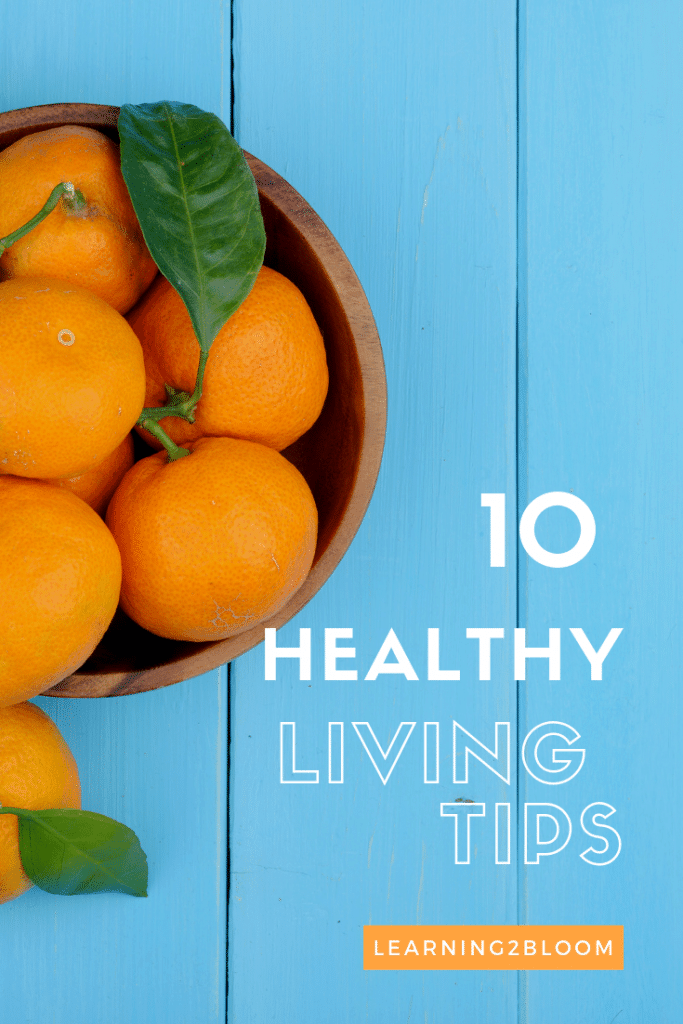 Are you feeling overwhelmed by healthy living? 
I can relate. I know that feeling all too well. Trying to get through work, dropping off and picking up kids, sports, homework, appointments, cleaning , preparing meals, and everything else that needs to be done is exhausting.
It's not that you don't want to incorporate healthy living. You know what needs to be done. You know the basics of exercising, eating healthy and taking care of yourself and your kids. It can be real a struggle to actually fit it in to your daily routine and get it all done.
Check out these 10 Healthy Living tips that will help you take care of yourself. As a single mom it's easy to focus so much on your kids that you forget about yourself. Don't put you last. It's important to care for yourself so that you'll have the energy you need to get through the day and be the best mom or parent that you can be.
10 Healthy living tips:
1. Get enough sleep
This is probably the most important thing that you can do for your health. If you are getting enough sleep, you it will be much easier to tackle daily challenges.  This also applies to your kids. The better they are sleeping, the better they will feel (and act) during the day. It may take some time, but once your family figures out a routine that works, things will get better.
2. Eat healthy foods
Eating a healthy diet can be a challenge, especially when your kids aren't on the same page. If you're not currently eating as healthy as you would like to be, you don't have to change your entire diet in one day. Try decreasing and then eliminating one thing from your diet each week until you are eating healthy.
Many times, we underestimate how much of an impact food has on our body. Sugar, processed foods and other things in our diet can increase behavior issues, cause headaches, or make us feel sick in general.
3. Drink enough water
This seems like such a simple thing, but most of us really don't drink enough. When we do make sure we're  getting enough water we will be much healthier and feel better throughout the day.
4. Live in a clean environment
Your environment affects the way you feel. You don't have to keep your home spotless, but keep things as clean as you can. If you need to, have your kids or others in the household help with chores. Sometimes it seems like more work to keep up with reminding them to clean up after themselves, but once they get into the habit, your household will run so much more smoothly.
5. Stay Organized
Organize your home. Keeping your home as organized as possible helps cut down on clutter. If there is a place for everything, you are less likely to find things on the floor. You may need to dedicate a day, a week, or even a month to organizing your home, but it will be worth it once it's done.
6. Find time for yourself
It's important as a parent to find time away from everything to focus on yourself. This isn't an excuse to have "girls night out" every night of the week. Nor is it an excuse to ignore your responsibilities. It is a reminder to plan out some time that you can relax and recharge so that you are able to function during the week. This will look different for each of us. If you are single and don't have much help, this may have to be 10 minutes that you lock yourself in your room while you read or just relax. Or it may be an hour that you can sneak away for a free Zumba class, or other activity that you love.
7. Fit healthy habits into your daily routine
Developing healthy habits in children while they are young, is one of the most important things you can do for them. Teaching them now to have good personal hygiene is so essential. When it's age appropriate to do so, teach them to: brush their own teeth, comb their hair, have a bath, wear clean clothes, wash their hands, etc. These things will be a lasting habit for most and their future roommates and then spouse will be grateful.
8. Ask for help
Make sure you create a support system of close friends or family you go to when you need help. Most importantly, ask for help when you need it. We all need help at times. Don't be too proud to get help that you can't function and care for your family. If things seem  unbearable and you really don't have a support system, call a counselor or even see if there is somewhere near you that provides respite care.
9. Don't be too hard on yourself
Remember, no one's perfect. Life can be difficult. You're busy. You're stressed out. Raising children is a challenge. If you're not doing everything you think you should be, reevaluate. Look at what is working and what's not and see what you can change. Sometimes though, there will be times when you have no other option but to let your house be a mess for a week because you have so much on your plate. Let the frustration go and know that you're doing your best. Let things go when you need to and pick back up when things calm down.
It's so easy to compare ourselves to others, but we don't always realize that they might be having the same issues we are. There's so much more to people than what we see.
10. Find and USE Helpful Resources
Find resources that might be helpful to your family. The most important step of course, is to actually use these resources. This may be a support group on Facebook or in real life. You may want to look into parenting classes. Or even just go to the library or online to find books/ebooks with ideas that may help.
One resource that I love is the Healthy Meal Planning Bundle. It's a great way that you can get SO MANY resources all at once. It's definitely worth looking into!
If you have any specific questions, feel free to comment below and I will get back to you.  I would also love it if you would share any healthy living tips that you use in your family below in the comments.