12 Pre-Planned Dates
If you're lucky enough to have a significant other in your life who makes life feel more meaningful, show them that you care. During the holiday's, a birthday or special event, you're probably looking for the perfect gift to show them how important they are to you.
If you can't decide what to get your significant other, give them the gift of a year of dates. 12 pre-planned dates is the gift that lasts the whole year long. Plus, it takes a lot of pressure off of them. This is the perfect gift that will focus on spending time together and connecting with the one you love.
Who do you want to focus on this year?
Another way to use this gift is to plan "dates" with your kids, parents or a best friend. It's easy to forget to find one on one time to spend with those that you love most. Schedule things together throughout the year that you'll do as a family or with anyone you usually don't spend enough time with.
If you are in need of some time alone, give the gift of time off from your daily routines for yourself. I know several people who often book a hotel room once or twice a year to get away and spend time to recharge and focus on themselves.
How to set it up 
One way to do this, is to put together envelopes or even small boxes or gift bags for each month with that month's gift inside. If there are certain concert tickets, etc. that you can't purchase at this time, add a card or note explaining the gift and add the tickets when you get them.
You may want to let him know when you give him the gift that you will both open each gift together at the beginning of the month. Really though, it's up to you how you want to present it.
What should you include in the dates?
When deciding on which dates to include in your gift, think about what his hobbies are. What are things he enjoys doing often? Which things does he like to do with someone else vs. things he would prefer doing alone.
Also, try to mix it up. Instead of staying inside every month, decide on things you can do outdoors, inside, and whether you want the dates to just be the two of you, or if you want to include friends.
If you have any traditions, add those into your dates. For example, if you go out to eat with another couple around a holiday each year, you can add a restaurant gift card for that month.
You can also incorporate practical things that need to be done each year. For example, if he ends up spending a lot of time on the yard each October, set up a day date where you help him outdoors and then relax at the end of the day with a movie. Or even pay for someone or a service to help him out so that he doesn't have to spend so much time on the yard.
Money Saving Ideas
Check out Groupon for deals on date ideas. You can also look into any gift card deals during Black Friday. Many places offer amazing deals on gift cards right before Christmas.
It's also a good idea to include any coupons you find or even look to see if you have points on rewards cards at specific stores that will lower the cost of your dates.
Pick up things throughout the year to add to this gift. Depending on what you do, it can be expensive, but it's up to you to decide how much to spend. If you're on a budget, choose activities that are free.
Plan ahead
In addition to giving him the gift of pre-planned dates, make sure that you document on your calendar or somewhere what you are doing each month so that you don't forget about babysitters, etc.
It's a good idea to setup calendar reminders that include what you're doing, where, related deals or coupons, etc. so that you remember anything you need to prepare each month, such as babysitters, etc.
A Year of Dates
I have added several date ideas for each month so that you can choose activities that you each prefer. Many of these will depend on your location and also the local weather, but this list should at least be a starting point. Of course, you can always add your own ideas to the mix.
Date Ideas
January
Fondue Night- create your own fondue or go to a restaurant like the Melting Pot. If you choose the restaurant, make sure you sign up for their emails and go when they have a coupon or deal.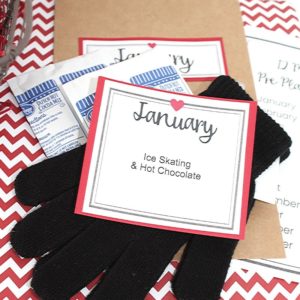 Movie Night & Popcorn
Ice Skating & Hot Chocolate
February
Spa night w/ massage
Board game and snacks
March
Xbox game night and snacks
Go hiking and have a picnic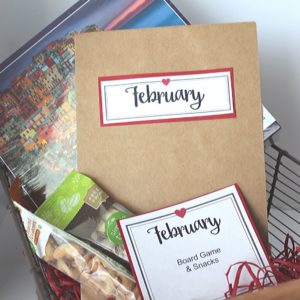 April
Dinner @ Your choice of restaurant
Concert
May
Brunch & Walk in the park
Staycation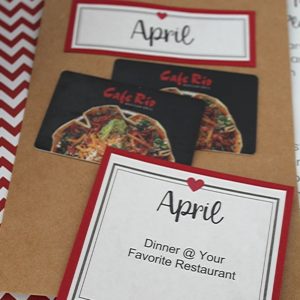 Shooting
June
Outdoor picnic
Golfing
Buy a City Pass if your area offers it:
Save up to 50% on combined prices for admission to must-see attractions! Shop Now at CityPASS.com!
July
Fireworks Date
August 
Vacation
Get slushies at a local slushy stand and go for a walk
Go swimming or hot tubbing
September
Farm & Farmers Market Produce
Miniature Golf, Laser tag, etc.
October 
Arcade & Pizza
Drive In Movie
Oktoberfest
Carve pumpkins
Pick apples
November 
Couples Cooking Date
Food Crawl: Appetizers, Dinner, Dessert, Drinks at different restaurants
December
Holiday shopping at the mall & lunch at the food court
Build a snowman and Bake cookies
Check out these ideas: What to do with your kids over Winter Break
Download your FREE 12 Pre-planned dates printables here: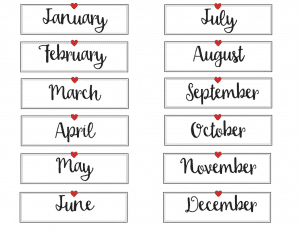 Month name cards downloadable PDF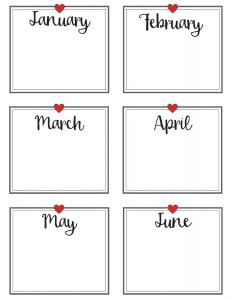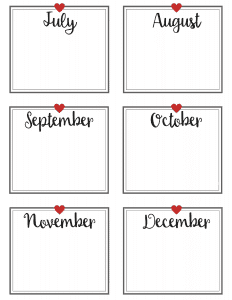 Monthly PDF fillable date idea cards
Ideas?
What would you add to the list? I would love to hear your ideas below in the comments!