How to Surprise Kids with a Trip to Disneyland
It's the most wonderful time of the year, which means holiday décor, festive parties and wish lists are here. Sometimes, we often get so caught up in the material fun, that we forget about the true meaning of the season; spending time with those you love most.
This year, instead of spending money on gifts that become forgotten, consider giving the gift of a vacation. Better yet, surprise your family with a trip to Disneyland this holiday season! You'll not only be able to experience the magic of the parks, you'll be able to spend quality time with those that you love as well. This is a gift that I've dreamed about giving to my family forever, which means I've thought up quite a few ways for the big reveal. I've gathered my favorite of those ideas today to share with you, in case you're planning on spending the holidays in Disneyland.  
When planning your surprise Disneyland vacation, make sure you book with Get Away Today. They will not only guarantee the best price, but provide you with the best service as well. With their incredible hotel specials and discount Disneyland tickets, you are sure to have the most magical experience. Now, let's look at some fun ways to surprise your family with a Disneyland vacation: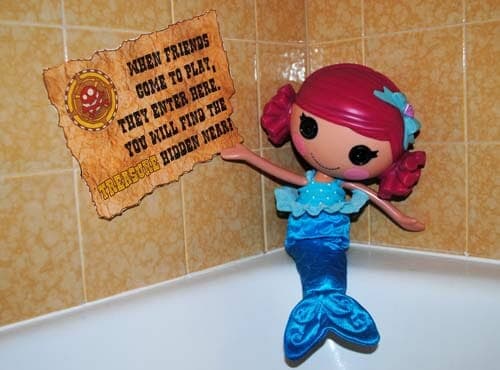 Disneyland Vacation Treasure Hunt
Going on a treasure hunt is one of my favorite ways to surprise kids, whether it's a vacation or anything else. This is such a fun way to see their excitement as they reach each clue and try to find the next one. To do this, you will need to create three or four clues for your kids to find and then create the final clue that will reveal your surprise. You'll want to place each clue around the house, so they can begin the hunt on Christmas morning. Once they find the final clue, it will reveal that they are going to Disneyland! There is truly no greater treasure than to find out you're going to Disneyland.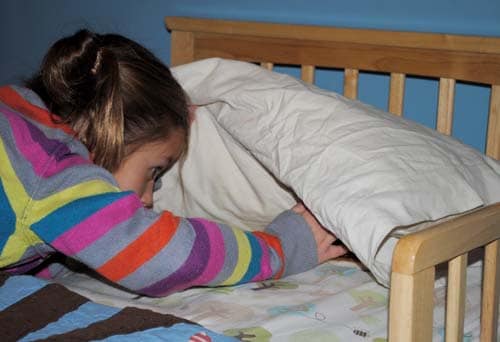 Here are a few Disney-themed clues to warm up your brain:
"Let it go, let it go! This clue is spiraling in frozen fractals all around." This clue should be hidden in the freezer, maybe with an Elsa or Anna doll.
"Ka chow! Look for Lightning McQueen to find the next clue." This clue could be hidden in a toy bin with Cars figures or in the garage.
"Mirror, Mirror on the wall. Who's the fairest of them all? The one that finds this clue first!" You could hide this clue near a mirror or even near a few apples.
There are so many great Disney stories to use for clues, including Toy Story (think toys), Rapunzel (hair brush), Finding Nemo (fish tank), Up (dog's collar) and more. If you use the treasure hunt, don't forget to let me know what clues you used in the comments!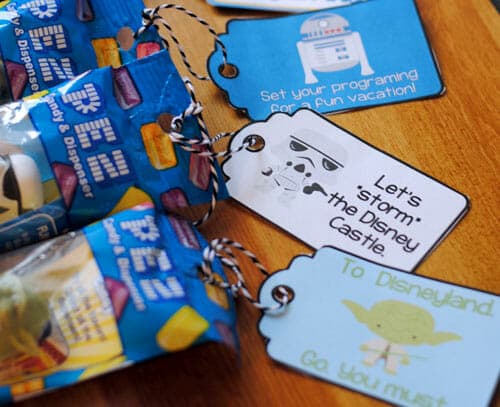 Star Wars Surprise
Have any Jedis in your family? Then this Star Wars vacation reveal is perfect for your younglings! Not only is this surprise filled with the force, but it's budget friendly too based. All you'll need is some Star Wars themed merchandise. Create gift tags with your favorite Star Wars characters (click here for free printable options) on them. You can use fun phrases like "Let's STORM Disneyland" or "You're going to have fun AT-AT Disneyland".
Then on the back of the tag, put "We are going to Disneyland!" or another phrase that will reveal the surprise. Once you're done, just attach the tags to the Star Wars merchandise and place them under the tree or in their stockings. Your family will be sure to have a "Merry Sithmas" with this vacation surprise.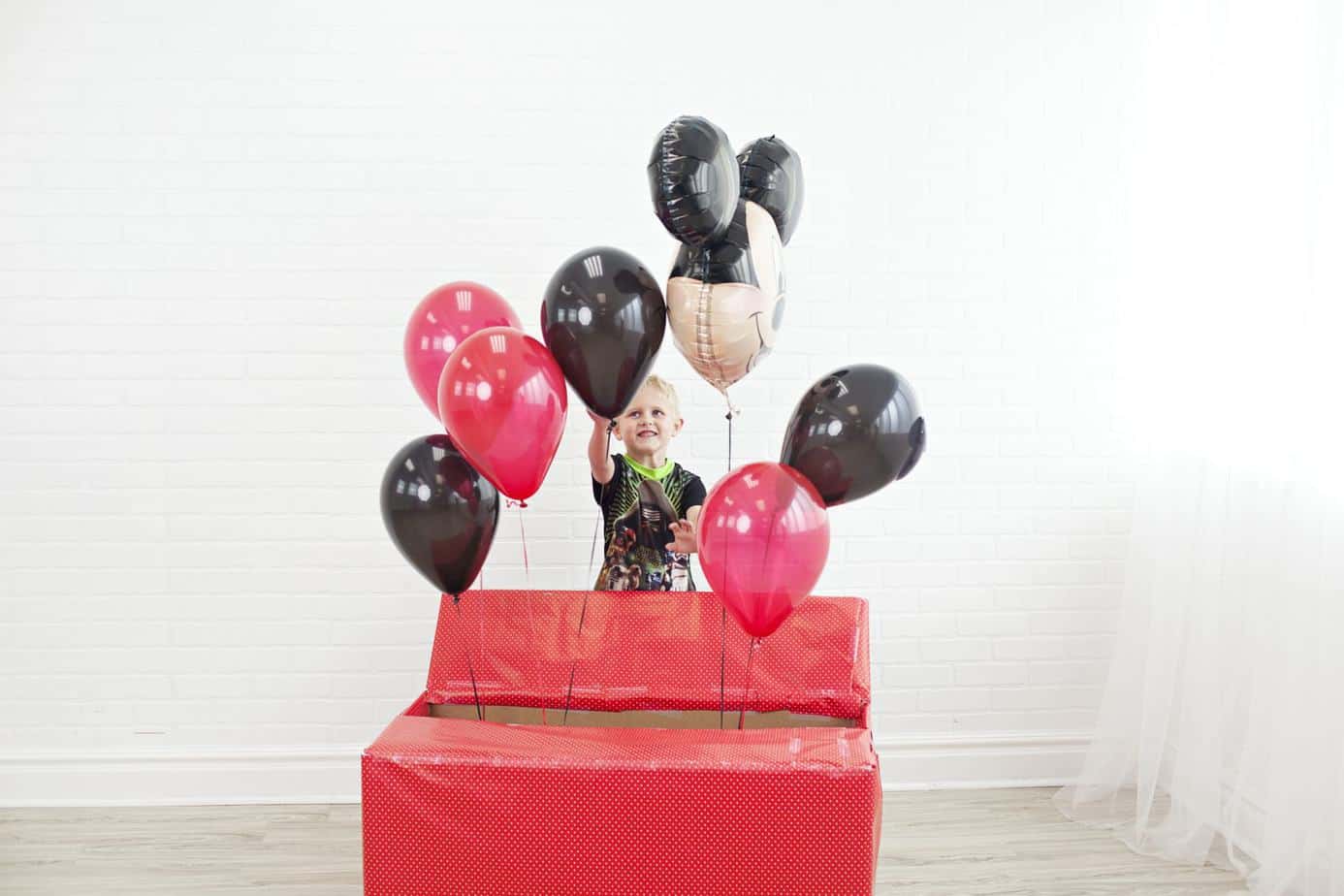 Balloon Surprise
This vacation reveal may be the most fun out of all of them. Plus, it's simple and easy! All you'll need to pull off this surprise is a large box, wrapping paper, colored balloons and a themed Disneyland balloon. For the themed balloon, you can choose your child's favorite Disney character or buy a classic Mickey or Minnie balloon instead.
Once you have the supplies, tape a message that you're going to Disneyland on one of the balloons. Then, push all the balloons into the box and tape it closed before they escape. After it's taped, wrap the box in wrapping paper and place it under the tree. This one is probably best prepared either the night before or even early in the morning before the kids wake up to unwrap their gifts. Your kids will think it's another ordinary present, until they open it and see they are going to The Happiest Place on Earth!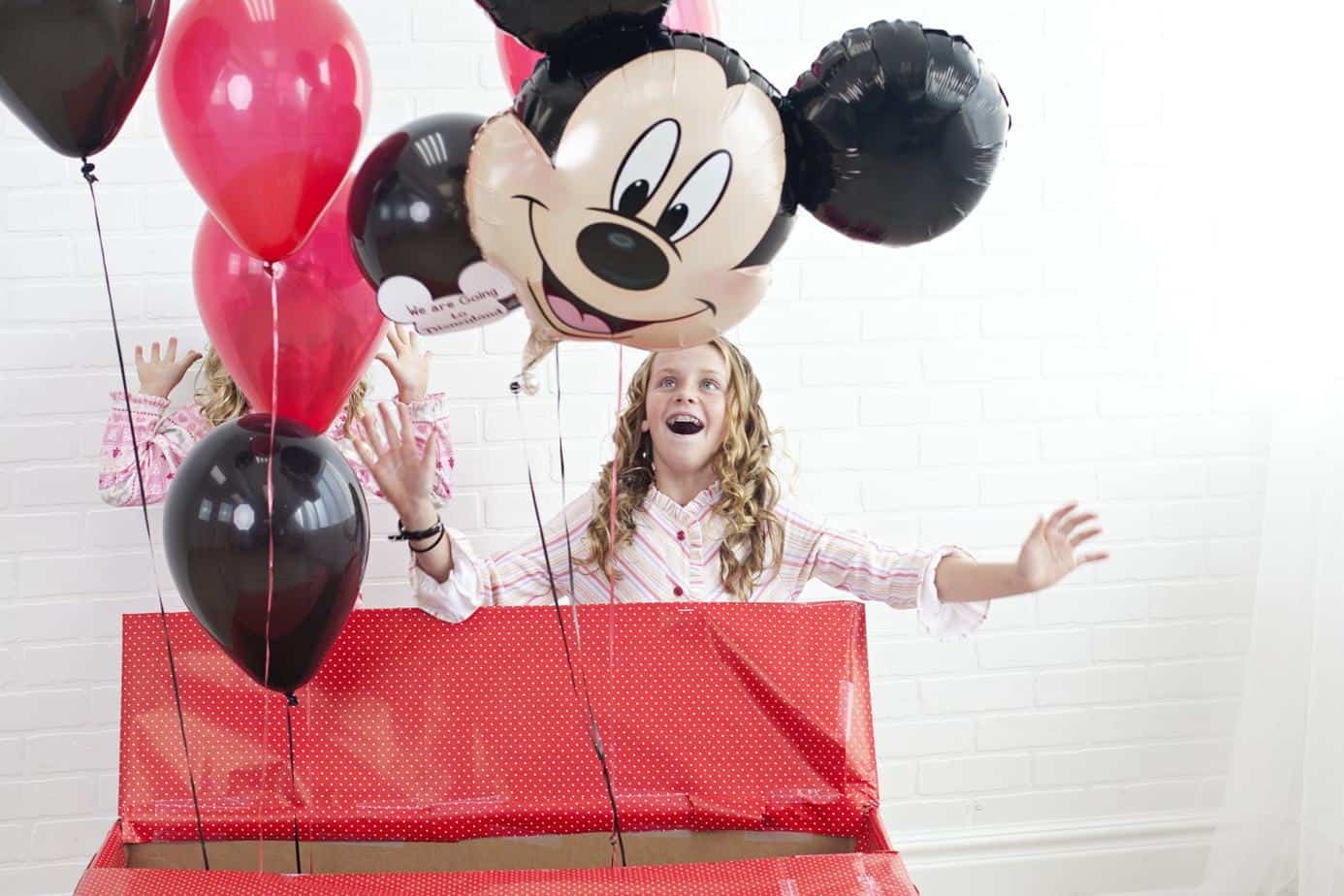 Airport Surprise
The ultimate surprise would be to pack everyone's belongings, place them in your car and leave for your vacation on Christmas morning. Your family won't know they are going on a trip until they walk out the door. Be sure to film everyone's reaction as you're headed to the airport, it will be something you won't want to forget!
Give the gift of Disney
These are just a few of my favorite vacation surprise ideas. Giving the gift of a Disneyland vacation is the perfect opportunity to get creative and create a reveal that your family will enjoy. It doesn't have to be over-the-top expensive or hard, either. The real treasure is getting to go to Disneyland with your family – the surprise reveal is just icing on the cake.
If you're planning on visiting for the Holidays at the Disneyland Resort this year, you have until January 7th to do so. There's so much to see and do during the holiday fun that you won't want to miss. If you're not sure you'll make it this year, that's okay. You can already start planning (and saving!) for next year's Christmas vacation.
Book now!
How? By booking with Get Away Today! On top of great pricing, they also offer a layaway plan that allows you to book your trip for only $125 down. Then, you have until 15 days before you travel to pay off. That means you could have over a year to save up for next year's Christmas vacation!
Whether you're booking 2017 or 2018 packages, visit getawaytoday.com or call 855-GET-AWAY to speak to one of their travel experts. Plus, you can save an extra $10 off your vacation package when you use promo code 2Bloom. After all, there's no better way to get in the mood for the season than saving on your holiday vacation to Disneyland!